Preserving Steiner
By JOHN STANLEY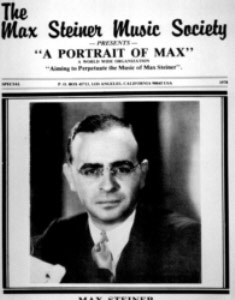 THE WORK of a film composer from the Golden Age of Hollywood, roughly the 1930s through the '60s, usually lives on through movie revivals and the need of TV stations to show an unending supply of older movies. In recent years we have seen the boom of the videocassette market, now enhanced by the DVD boom, which keeps bringing back some of the best work of these choice composers. In the music market, where soundtracks are a big business, some composers consistently have their work adapted to new CDs, or old tracks are reissued.
Max Steiner, for reasons hard to define, has not remained as popular in the soundtrack music market as some of his peers, such as Miklos Rozsa, Bernard Herrmann and Erich Wolfgang Korngold. There are the usual reissues of "King Kong" and "Gone With the Wind," and a Charles Gerhardt compilation from the 1970s (RCA Victor) that seems to stay in print on a continuous basis.
For a while it looked as though Steiner was slipping away into obscurity. However, in the last two years some of his most exciting Warner Bros. soundtracks have been newly orchestrated overseas and issued on handsome CDs. "The Flame and the Arrow" (Scannan Film Classics of London), with Kenneth Alwyn conducting the City of Prague Philharmonic, is a delightful potpourri of Steiner themes, and includes "The Flame and the Arrow," "Dark at the Top of the Stairs," "Mildred Pierce" (main title only), "Ice Palace," "Life with Father," "Now Voyager," "The FBI Story," "The Hanging Tree," "Sergeant York," "Parrish" and "Johnny Belinda."
The simply titled "Max Steiner" (from HNH International Ltd.), with William Stromberg leading the Moscow Symphony Orchestra, is a sheer collector's item with lenghty and faithful re-creations of "The Lost Patrol," "The Beast With Five Fingers" (one of the few horror films Steiner tackled) and "Virginia City," the latter one of his finest Western scores with heavy Civil War motifs.
A personal favorite of mine, which I have played over and over, is "Film Scores by Max Steiner" (from Centaur of Baton Rouge, LA), which features Barry Kolman conducting the Slovak State Philharmonic Orchestra. This consists of lengthy tracks from "Treasure of the Sierra Madre" and "The Charge of the Light Brigade," each suite running about 35 minutes.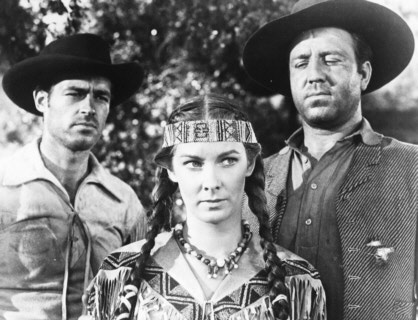 However, any self-respecting Steiner fan has another means of acquiring Steiner music that is unique, for no other composer from the Golden Age has anything like The Steiner Library, P.O. Box 1392, Northbrook, Illinois 60065-1392, or www.maxsteiner.com.
Get this: The Steiner Library offers audiocassettes of music from 154 of Steiner's films--music that was recorded directly off the 12- and 16-inch lacquered discs that were cut during the studio recording sessions. Since optical soundtracks took at least one day to process, these discs became Steiner's back-up method of immediately double-checking to make sure that all his cues were properly timed. After each musical piece was completed, Steiner would run the picture in synch with the record. If he was satisfied, he would move on. If not, he would do the piece again. After the recording sessions were finished, Steiner would take the records home and store them in his personal library. Thus, some of Steiner's finest (and in some cases, most obscure) work can be enjoyed without distraction from dialogue and sound effects.
The Steiner Library is a direct offshoot of The Max Steiner Music Society, an appreciation organization begun in 1965 by founder Albert K. Bender. (Since Bender's retirement, it has become known as the Steiner Memorial Society and is headed by Brian A. Reeve, #1 Rotherwood Road, Putney SW15 1LA, London, England.) It was Bender who originally received permission from Steiner's widow, Lee, to make recordings of all the records before they became part of the less accessible Steiner Museum located at Brigham Young University. Bender discovered that the lacquered discs had begun to turn brittle and needed to be washed with detergent before they could be played. Some of the discs had just one final pass left in them--the pass that Bender needed to transfer them to magnetic tape.
But it was James E. Reising, a member of the Society since 1966, who voluntarily came forward when he realized someone was still needed to turn those tapes into a workable library that would be available to the public.
"It was a Herculean task," recalled Reising, a professional audio engineer specializing in tape duplication, who still keeps the music library available to the public. "It became a five-year editing project (1971-76) with all the disc dubs being transferred to Dolby A full-track tape. They were then put through a process to make minor equalization and level changes where appropriate and to eliminate as much surface noise as possible. Then I edited the cues into suites, in the order they were used in the films or as close I could reconstruct the sequences, based on the meager information on the labels. Many of the original discs were 40 years old or more. In the case of a lacquered disc, the more you play it the worse it gets, and some of those records had seen a lot of wear and tear. It still shows in some cases. 'Charge of the Light Brigade,' for example, has some very rough sections in it. 'Sergeant York' and 'Little Lord Fauntleroy' are of poorer quality. But in general, the quality of the library is very good. And if it isn't, we note that on the catalogue."
Some musical pieces were too short to fill a complete audiotape so Reising often combined several elements onto one tape, often grouping them by their year of release. Thus one tape contains "The Life of Emile Zola," "Submarine D-1" and "First Lady." Or three 1938 films are combined: "Crime School," "The Amazing Dr. Clitterhouse" and "The Sisters."
"Many things are missing in the library," admitted Reising. "For instance, there were no discs for 'The Big Sleep' or 'The Caine Mutiny' or 'Battle Cry.' 'King Kong'? Only 13 minutes survived. In some cases, we have only a few minutes of a particular title, such as 'The FBI Story' or 'Cash McCall' or 'Mission to Moscow.' "
Reising doesn't know why Steiner didn't keep a more complete library. "He was a generous, gregarious man, and we assume he may have given many of the records away to admiring fans over the years. We've tried to locate the missing discs, but without any luck. It's also very possible that sometimes Max forgot to bring the records home and they got tossed out. Who knows. Go figure."
The soundtracks are very reasonably priced. For example, you can get all 80 minutes of "The Searchers" for $8.50, or 58 minutes of "A Star Is Born" for $7.50. One of my favorites is Steiner's heroic theme for "The Three Musketeers"--70 minutes for $8. Another personal favorite is "Distant Drums," 57 minutes for $7.50, or "Treasure of the Sierra Madre," 59 minutes for $7.50. The most expensive tape is "Gone With the Wind"--$12 for all 140 minutes. The most popular tape, according to Reising, is still "The Adventures of Don Juan," 70 minutes for $8.
As for "Casablanca," only 23 minutes survived. "But," pointed out Reising, "they just happen to include some of the film's best passages, including the whirlwind romance between Bogart and Bergman." As time goes by, the Steiner Library just gets better and better. And it will always have Paris, Max Steiner style.