POP MUSIC STARS and THE MOVIES
By RON MILLER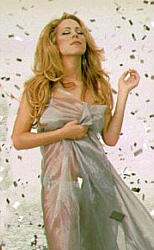 If you're a humongous pop music megastar like Britney Spears, who dazzles on radio, television and recordings and sees her glamorous face smiling from the covers of scores of magazines week after week, it must be a giant pain in the keister to know you're considered a colossal dud when it comes to movies.
Though Spears has been in front of cameras nearly all her performing life, her 2002 debut movie "Crossroads" was a mammoth turkey at the box office. She may as well have been a nobody from Septic Springs, Arkansas.
Truth is, though, Britney's bomb-arooney as a movie star isn't necessarily a bad reflection on her career. Crossing over from pop music stardom to movie stardom is a killer assignment, no matter how big you are as a pop phenomenon. Very few pop music stars have done it--and been able to add the term "movie star" to their resumes.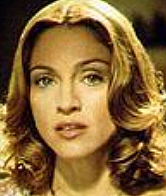 Pop Diva Mariah Carey, for instance, received a big, red "X" for her 2001 movie "Glitter," which was scorned by critics and ignored by moviegoers. Self-proclaimed "king of pop" Michael Jackson wowed critics and fans in his first starring movie "The Wiz," but that was more than a quarter century ago. Where did his "movie" career go?

And how about Madonna? She had good notices for her debut in "Desperately Seeking Susan" in 1985 and made several other films that seemed to indicate she had movie star potential, among them "Dick Tracy" (1990), "A League of Their Own" (1992) and "Evita" (1996), but anyone who describes Madonna as a movie star these days runs the risk of being hooted out of the room. Too many people may remember her many screen bombs like "Shanghai Surprise," (1986), "Who's That Girl?" (1987) and "Swept Away" (2002).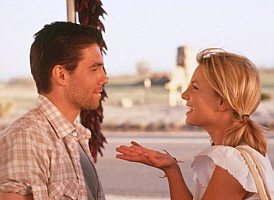 Why should Britney, Mariah, Michael or Madonna really care? I mean, aren't they filthy rich from their recordings and all the other ancillary profit centers of their celebrityhood? Well, perhaps they remember all the pop stars of the past whose string of hits finally came to an end, leaving them in no demand whatsoever except for those occasional "whatever happened to..." specials or pop music nostalgia shows on PBS.
Perhaps they realize that being rich is cool, but being "over with" is intolerable for somebody who's been a superstar. Maybe they also remember the glittering examples like Cher, a pop star in the 1960s that most everybody thought would fade away quickly once she divorced Sonny Bono and broke up their act. But Cher tried hard for a movie career, proved her merit as a serious actress in a series of supporting roles, then won the Best Actress Academy Award in 1987 for "Moonstruck." Cher's music career continued to flourish, but the Oscar made her a genuine movie star, even if she's only made a handful of movies since. Now she's a pop icon, a status only a handful ever achieve.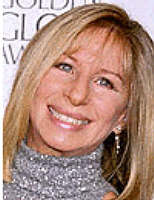 Another who did was Barbra Streisand, who was a recording sensation in the 1960s, then won a Best Actress Oscar in her movie debut, playing Fanny Brice in "Funny Girl." Streisand parlayed that success into a genuine movie career that kept her in full bloom as a superstar long after her music fell from the pop charts onto the "easy listening" charts and her recording career slowed to a crawl. (Streisand is the only pop icon to win TWO Oscars. She won her second as the composer, with Paul Williams, of "Evergreen" from the 1976 movie "A Star is Born," named Best Song at the 1976 Academy Awards.)
Streisand's co-star in that 1976 "A Star is Born" was another pop idol, Kris Kristofferson, who turned to acting in 1970 at the peak of his popularity as a singer-composer of pop/country hits like "Me & Bobby McGee" and "Help Me Make It Through the Night." Kristofferson has maintained a very strong presence in movies ever since, moving from star roles to character parts, dividing his time equally between his acting and recording careers.
If there's a secret pop music stars could learn about crossing over to movie stardom, it probably would be: Learn to act. Many pop and rock headliners have established themselves as good actors, even if they didn't become box office stars in the movies. That means they can continue to work in both movies and music, a versatility that almost always means longer, more profitable careers.
Consider the case of Sting, the lead singer for The Police, a phenomenally popular British rock band from the 1970s. Sting plunged into movies in supporting roles and scored well with critics in films like David Lynch's "Dune" (1984), "Plenty" (1985) with Meryl Streep and "The Bride" (1985) as Dr. Frankenstein. Long after The Police broke up and Sting became a single act, he has been able to keep busy with both his music and occasional movie roles, almost always well-received by critics.
A similar example would be that of English rockster David Bowie whose starring performance in Nicolas Roeg's "The Man Who Fell to Earth" (1976) received rave reviews. He followed that with strong performances insuch films as "Merry Christmas, Mr. Lawrence" (1983) and "The Hunger" (1983) with Catherine Deneuve and Susan Sarandon. That early work marked Bowie as a man who could perform exceptionally well in both movies and music.
Still, the crossover giants of an earlier time were something else--pop music stars so big in movies that people began thinking of them as movie stars who also sang: Bing Crosby, who won the Best Actor Oscar for 1944's "Going My Way" and was a top box office star for a decade; Frank Sinatra, who won the Best Supporting Actor Oscar for "From Here to Eternity" (1953) in a straight dramatic role that rekindled his dormant movie career and mad him a top movie draw; Doris Day, a big band singer of the 1940s with dozens of No. 1 pop hits, who became a movie star in 1948, earned a Best Actress nomination for 1959's "Pillow Talk," and kept her name above the title in every movie she ever made in a long, long screen career; Dean Martin, a pop music star of the 1950s who broke into movies as straight man to comic Jerry Lewis, then struck out on his own as a dramatic actor in hit movies like "Some Came Running," "The Young Lions" and "Toys in the Attic." All four achieved icon status in show business--and it's doubtful that would have happened without their movie success.
Like most of the pop stars of today, Crosby, Sinatra, Day and Martin all sang in their first few movies. In those days, musicals were a popular movie genre. Today they're extremely rare--and most are adaptations of Broadway musical shows like last year's Oscar winner "Chicago." Films built around a pop star who's making his or her screen debut were common in the 1940s and 1950s, but they're few and far between today.
In 1956, when rock phenomenon Elvis Presley made his movie debut in "Love Me Tender," the pop star "vehicle" was still a viable movie genre. It wasn't necessary for the performer to learn how to act as long as his or her fans continued to flock to the theaters. But no other rock star of the 1950s had the enduring appeal of Elvis, who made 30 movies, almost all of them musicals. His contemporaries, such as Pat Boone, Tommy Sands, Fabian and Connie Francis, starred in a few movies, but their recording careers barely lasted long enough for the movies to reach theaters.
Racism also surely held back certain popular black recording stars who demonstrated exceptional acting ability. Harry Belafonte, who was a chart-topper in the 1950s with his folk tunes like "The Banana Boat Song," landed a few big roles in pictures like "Island in the Sun" (1957), "The World, The Flesh and The Devil" (1959) and "Odds Against Tomorrow" (1959), but nothing much came of his acting career. Despite his movie star looks and good reviews for his acting, Belafonte came along at a time when much of white America simply refused to buy tickets for movies starring black men.
The most popular African -American pop star of his generation--Nat "King" Cole--landed small parts in several movies, usually playing himself during a musical interlude, but finally won some co-starring or leading roles in dramas like "China Gate" (1957) with Gene Barry and Angie Dickinson and "St. Louis Blues" (1958), in which he played composer W.C. Handy in a film with a mostly black cast. But by "Cat Ballou" (1965), he was relegated to the role of a strolling minstrel, even though he was still a popular recording star.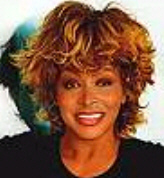 Racism probably wasn't a factor in the fizzle of black musical volcano Tina Turner's movie career after the very hot r&b star earned standout notices as the Speed Queen in the 1975 movie version of The Who's rock opera, "Tommy." Turner showed plenty of movie star potential later as the Queen of Bartertown opposite Mel Gibson in "Mad Max Beyond Thunderdome" (1985), but she was offered few roles afterward and her movie career slipped away.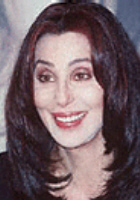 By the 1970s, it was still possible for a pop music star to get a movie tailored for him or her, but it was extremely unlikely that the performer would get a follow-up movie. A more likely scenario would be a "performance" movie like The Beatles' "A Hard Day's Night" (1964), which didn't require the Fab Four to exercise any acting chops. Their example was quickly followed by Gerry and the Pacemakers with "Ferry Cross the Mersey" (1965), Sonny & Cher with "Good Times" (1967) and so on. These films had minimal storylines and just gave the pop stars an opportunity to clown around and do their thing in between tunes.

However, Hollywood almost accidentally discovered a new movie star when it brought beautiful Olivia Newton-John over from the pop charts to play opposite John Travolta in the movie version of Broadway's "Grease" in 1978. The response to Olivia was sensational in that fabulously successful musical and she was quickly rushed into her own starring vehicle, "Xanadu" (1980) with musical movie icon Gene Kelly. After that bombed, Olivia was re-teamed with Travolta in "Two of A Kind" (1983), another box office turkey, and that was pretty much that for her movie career.
Another recording star who made a sensational movie debut in 1980 was Dolly Parton, the buxom country star who was in the midst of a successful crossover onto the pop charts. Teamed with Jane Fonda and Lily Tomlin in the box office comedy smash "Nine to Five," Parton drew magical reviews and was deluged with movie offers. But she never found the right follow-up vehicle, turning instead to a series of popular made-for-TV movies and the occasional big screen vehicles like "Rhinestone" (1984) and "Straight Talk" (1992), which made no waves at the box office.
Most critics proclaimed Parton a "natural" on the screen, but perhaps the demands of her performing career, her television success and the changing tastes of the pop marketplace kept her from taking advantage of what many felt was a very special opportunity to reach genuine movie stardom.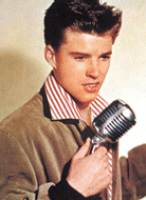 In contrast, some pop stars get magnificent opportunities to make it in movies, but just can't deliver. A classic case: Teen idol Rick Nelson, who landed a leading role in the all-star western "Rio Bravo" (1959) with John Wayne, Dean Martin and Angie Dickinson. Nelson was embarrassingly bad, despite his many years as an "actor" in his parents' radio and TV series, "The Adventures of Ozzie and Harriet." Nelson made other movies, but never showed any acting talent. (However, Rick's daughter, Tracy, is a talented actress who has starred in several TV series.)
Another Nelson who has scored some acclaimed roles in movies: Country music star Willie Nelson. Despite being short, grizzled and gray, Nelson showed star potential in dramatic supporting roles in "The Electric Horseman" (1979) and "Thief" (1981) while also doing quite well as the star of music-related films like "Honeysuckle Rose" (1980) and "Songwriter" (1985).
Over the years, there have been many examples of recording stars who seemed destined for long movie careers, but just never made it. More often, though, the pop stars have just gone to the movies, done pretty much what they were doing already, and made no particular impression on anyone except their diehard fans.
Here's a chart showing how some other popular recording stars have done in the movies:
 

 FRANKIE AVALON

 

  Pop/rock sensation
of the late 1950s and 1960s who was a chart-topper with hits like "Venus"

 

 Avalon wandered into movies in westerns like "Guns of the Timberland" and "The Alamo," both 1960, then achieved screen immortality when he co-starred with Annette Funicello in "Beach Party," 1963, first in a long series of "beach" movies.

 

 GLEN CAMPBELL

 

 Popuilar backup guitarist to major acts who became a major pop star with crossover
country hits like "Wichita Lineman," "Rhinestone Cowboy,"
"Gentle on My Mind"

 

 Campbell had a big role in the hit film "True Grit" (with John Wayne) and a few others, but never established himself in movies.

 

 JOHNNY CASH

 

Country music star who crossed over during the early years of rock to pop charts with hits like "I Walk the Line," "A Boy Named Sue," etc.

 

Cash co-starred with Kirk Douglas in the western "A Gunfight" (1971) and earned good reviews. Later, he starred in a string of popular made-for-TV movies, including a remake of "Stagecoach."

 

PETULA CLARK

 

  British child actress who appeared in many movies as a youngster, including "The Promoter" (1952) with Alec Guinness. Her singing career blossomed in the 1960s with a line of hits, including "Downtown," "This is My Song," etc.

 

 Clark earned a second chance at movie stardom as an adult...after she became an international pop music star. She played Fred Astaire's daughter in "Finian's Rainbow" (1968) and Peter O'Toole's wife in "Goodbye, Mr. Chips" (1969), but her film career faded along with her pop music fame.

 

 ROSEMARY CLOONEY

 

 The aunt of current box office star George Clooney was a top-10 recording star in the early 1950s with hits like "Come on-a My House," "Hey There"

 

Clooney had clear star appeal in her debut film, "The Stars Are Singing" (1953), followed it with the flop "Red Garters" (1954), then had her one huge hit, "White Christmas" (1954) with Bing Crosby and Danny Kaye. Her movie career fizzled when she fell off the pop charts as the rock era began.

 

  PERRY COMO

 

A pop music giant for 30 years who had scores of hit records and a long-running TV show

 

 Como was given a movie star buildup at 20th Century-Fox in the 1940s, but never showed star quality on screen in films like "Something For the Boys" (1944), "Doll Face" (1945).

 

 JOHN DENVER

 

 Popular folk/pop singer of the 1970s and 1980s with hits like
"Rocky Mountain High"

 

 Denver was a huge hit in the comedy "Oh, God!" (1977) opposite George Burns, but never found a good follow-up film to cement his film career.

 

 BOB DYLAN

 

 The dominant folk singer of the 1960's on with a long string of American classics, including "Blowing in the Wind"

 

  Dylan never made a serious mark in the movies with "performance films" like "Don't Look Back" (1966) and "Hearts of Fire" (1987). He did, however, win an Oscar for composing the song "Thingn Have Changed"
from "Wonder Boys" (2000)

 

WHITNEY HOUSTON 

 

   Super popular African-American diva of the late 1980s and early 1990s with hits like "I Will Always Love You."

 

 The sleek, beautiful Houston was a sensation in "The Bodyguard" (1992) opposite Kevin Costner and finally followed it up with "The Preacher's Wife" (1996) opposite Denzel Washington. Her movie career fizzled after that as her pop music career also waned.

 

 BURL IVES

 

 The most prominent "folk singer" of the 1940s, the bearded, chubby Ives had hits like "Big Rock Candy Mountain"

 

 Ives made his movie debut in "Smoky" (1946), then turned seriously to acting in the 1950s with a series of awesome dramatic roles like "Big Daddy" in "Cat On A Hot Tin Roof" (1957). He won the 1958 Best Supporting Actor Oscar for
"The Big Country."

 

 MICK JAGGER

 

 The lead singer of The Rolling Stones rock band, with many hits like "Satisfaction," etc.

 

 Jagger tried hard on many occasions to forge a screen career in films like "Ned Kelly" (1970) and "Performance" (1970), but showed best in touring films like
"Gimme Shelter" (1970)

 

 FRANKIE LAINE

 

 A major recording star of the 1940s and pre-rock 1950s with a long line of hits like "Jealousy," "That Lucky Old Sun," "Jezebel," "High Noon."

 

 Laine starred in a few amiable low-budget musicals of the early 1950s like "When You're Smiling" (1950), "Bring Your Smile Along" (1955), but never made a home for himself in the movies.

 

 PEGGY LEE

 

 One of the most popular female singers of the late 1940s through the 1960s, with such hits as "Manana," "Fever," "Is That All There Is?"

 

 Lee had an on-again, off-again movie career in the 1950s, debuting with Bing Crosby in "Mr. Music" (1950), co-starring with Danny Thomas in "The Jazz Singer" (1953) and earning a Supporting Actress Oscar nomination in 1955 for Jack Webb's "Pete Kelly's Blues."

 

 JOHN LENNON

 

 Singer, composer, guitarist with the English rock band, The Beatles, whose hits go on forever.

 

 Like fellow band members Paul McCartney, George Harrison and Ringo Starr, Lennon gave acting the occasional try, most notably as a Cockney World War I soldier in Richard Lester's "How I Won the War" (1967). There was no particular demand for his acting services.

 

 JULIE LONDON

 

 Sultry saloon-style singer of the 1960s whose big hit was "Cry Me A River."

 

 London actually was a movie actress before she made any clamor as a singer. In movies from the early 1940s with "Nabonga" (1944), "The Red House" (1947), "The Fat Man" (1951), "The Great Man" (1956). She enjoyed steady work in the early 1970s as a regular on TV's "Emergency."

 

AL MARTINO

 

 Big-voiced pop singer of the 1950s and 1960s whose hits included "Here in My Heart," "Spanish Eyes," etc.

 

 Martino's big movie break came after his pop career had waned: He was cast as the Sinatra-like Italian singer in "The Godfather" (1972). It didn't lead to a movie career.

 

 JOHNNIE RAY

 

The "crying" pop star of the early 1950s had such hits as "Cry," "The Little White Cloud That Cried," "Walking My Baby Back Home," "Just Walking in the Rain."

 

Ray made his film debut in the big budget musical "There's No Business Like Show Business" with Marilyn Monroe. He did little acting
after that.

 

 DIANA ROSS

 

The lead singer of the 1960s Motown group The Surpremes became a superstar diva when she went out as a single

 

Ross earned an Oscar nomination and rave reviews in her acting debut as Billie Holliday in "Lady Sings the Blues" (1972). Her follow-up, "Mahogany" (1975) was a hit, but her notices weren't so nice. After "The Wiz" (1978), her movie career was pretty much over.

 

 RUDY VALLEE

 

 The "collegiate" singer (with megaphone) was a pop star of the late 1920s and early 1930s

 

 After his debut in "The Vagabond Lover" (1929), Vallee developed into a capable comic character actor, at his best in Preston Sturges' "The Palm Beach Story" (1942)