Dairy Heifer Development
A Management Program
Designed especially for the
Development of the Replacement Dairy Heifer…

Objective
Our main objective is to develop heifers in such a way so that they will go home as profit centers of your dairy. We want to maximize a heifer's reproductive growth potential by feeding her to at least 1200 pounds and having her ready to calve by 24 months of age, keeping in mind that it must be cost effective for the producer.

Our second goal is to maintain an open relationship with the customer. You will find us to be plainspoken, straightforward, and honest in all of our dealings with you.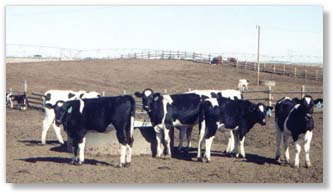 Nutrition
Teague Diversified, Inc., never loses sight of the fact that a growing heifer's nutrition is critical in terms of her future productivity and stayability in the milking herd. Heifers are monitored individually for weight and condition to ensure reproductive performance and growth without excess fleshiness.

Rations are balanced for energy, protein, and essential vitamins and minerals to ensure gain required for heifers to reach puberty and get pregnant at an early age.

Herd Health
Heifers are managed under a preventative total health program. Complete vaccination protocols are individually designed for the needs of each producer's cattle. Heifers are closely monitored daily for health by the management staff.

Feed Availability
Teague Diversified, Inc., is located in Morgan County, Colorado, known statewide for its abundance of agricultural feed products. We have access to a vast resource of traditional, quality-tested energy and roughage feeds at competitive prices, as well as many consistent, low-cost byproducts produced by industries in the area. All feeds are analyzed for nutrient value and purchased on this basis.

Reproductive Management and Services
Reproductive success is the primary target of our program and ultimately what makes a profitable cow in your milking herd. Teague Diversified, Inc., offers numerous services to our clients in an effort to reach these goals. Services such as reproductive tract scoring, estrous synchronization, pregnancy testing, and fetal sexing are all benefits that you as the producer have available for your convenience. In addition, we have a permanent, year-round artificial insemination crew. The benefits of artificial insemination and daily heat detection include more heifers bred at or near 14 months of age, resulting in earlier introduction into the milking herd, as well as the ability to use proven AI sires for a balance of traits: proven calving ease, milk production, and type, depending on the needs of each individual dairyman.

Custom Heifer Management
One of our strongest attributes is our flexibility in managing your replacement heifers. Our goal in custom management is to manage your heifers the way you want it done. Our number one priority is to make sure that you as the producer have the opportunity to control how your heifers will be managed while under our care.

COULD YOU INCREASE YOUR TOTAL MILK PRODUCTION OR BETTER ALLOCATE YOUR FEED, LABOR AND FINANCIAL RESOURCES IF YOU WERE RELIEVED OF YOUR REPLACEMENT HEIFERS?

Economics of a Replacement Heifer Program
Our skills, management team, feed resources, and facilities are designed for the development of replacement heifers. Although heifers represent your future in productivity and profitability, they also represent management problems in both the amount of labor and resources they require. By having specialized resources, we are able to cut your replacement heifer cost, while allowing you to replace her with a productive animal at home.

Financing Options
Teague Diversified, Inc., offers several financing options for the producer who is interested in maximizing the potential of replacement heifers:
Semi-monthly billing
Financing of feed at 1% over the current prime rate
Financing of cattle and feed at 1% over the current prime rate (30% owner equity in the cattle required)
Purchase of heifers with guaranteed buyback 60 days prior to calving
These financing options can give each producer added flexibility with operating capital, and increase the value of the producer's dollar.