Custom Cattle Feeding
Custom Cattle Feeding ...

Our Company
Teague Diversified, Inc., offers diversified custom cattle feeding services to both cattlemen and investors. We offer a complete line of services in addition to the growing and fattening of feeder cattle in the feedyard, including management of cattle on aftermath feed (cornstalks), development of replacement heifers and breeding bulls, management of cattle on rye and wheat pasture, and management of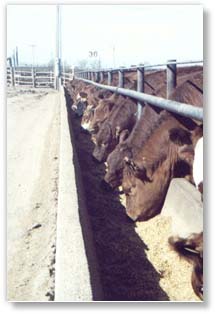 cattle on grass. Our primary mission is to help producers maintain profitability of their investment.

Our one-time capacity in two locations is approximately 32,000 head. We work with each customer as an individual, striving to make his feeding venture profitable, as well as helping him to gain information about the cattle he is producing.

Our Philosophies
Our feedlot facilities are extremely functional, but by no means fancy. They are managed, however, to provide excellent environmental conditions for cattle feeding. The yards have excellent drainage, and because we compost all of our manure for commercial marketing, we keep our pens as clean and manure-free as possible to keep up with our demand for compost. We feel that profitable cattle feeding is not based on fancy, new facilities, but the human resources that handle the cattle. We strive to hire and keep enthusiastic, honest, and willing to learn staff members. As a result, we have acquired individuals who are striving to be something other than "just another feedlot employee" in "just another feedyard." We are extremely proud of the fact that our employees enjoy working in our yard, and are interested in learning about the total beef cattle industry, and the profitability of our customers' cattle, and the ways that they can directly impact this profitability.

Our Methods
Our methods of feeding combine some traditional methods with many non-traditional, profit-oriented ones. We have developed relationships with other non-related industries that provide us with year-round, consistent, low-cost byproducts that make our rations extremely competitive. We also rely on a circle of professionals and colleagues who help give us the edge on the latest nutrition, health, and cattle growth research and advances. Where we may lack in long-time experience, we gain in willingness to continue learning about our industry, and acceptance of new, profit-oriented methods.

Nearly 100% of the cattle we feed are marketed into some type of value-based system. We have developed close working relationships with both the local packers, Monfort and Excel, and can market a customer's cattle under one of several different "grids" - formulas for obtaining the true value of the carcass - in order to maintain the most profitability in each set or type of cattle. Our employees are well trained in sorting cattle to a constant fat endpoint, and recognizing "out" cattle - cattle that will decrease the value of the group - and sort these cattle off to market separately. Although many in the feeding industry disagree with the current value-based system of grid and forward contract marketing, we see it as an avenue to the future of better, more knowledge based systems, and think it has offered us many current, real, advantages. If we have cattle to sell, we simply call the packer and tell them, and the cattle are scheduled for harvest with no other negotiation. It is up to us to make sure that we get the most profitable cattle to the packer. These close relationships with the packer allow us to easily get whatever carcass information we choose, at a minimal charge.

Ranchers Renaissance Alliance
We are members of Ranchers Renaissance, a marketing alliance which owns cattle from the ranch to the marketing of the beef to the consumer. Source-verified cattle can be marketed through this alliance, with the goal of increased profitability, and the obtainment of knowledge. We think that marketing of beef through this type of alliance shows true vision in the long-term success of the beef industry. Knowledge of our product, and the marketing of this knowledge to an end-user who is depending on this knowledge, will increase the consumers' demand for source-verified beef product.

Investor Feeding
We also feed a large number of cattle for investors - individuals who are simply buying and selling a commodity for financial purposes. We can offer services such as cattle procurement, financing of feed and/or cattle, and risk management opportunities to this type of cattle feeder, ensuring an appropriate return on investment that is predetermined by the individual.

Retained Ownership
To the producer interested in retained ownership, we offer various opportunities for obtaining knowledge and feeding of a producer's cattle. We can buy any percentage of a producer's cattle, offering partnership opportunities at any level, and we will finance the feed, and/or the cattle, at an interest rate of one percent over the current prime rate. Producers obtain the feeding and carcass data for the entire group of cattle, but can do so with limited risk. We think this opportunity is part of the long-term success of the beef cattle industry - we have to know what we are producing as beef producers and how we can best market the genetics that work on our ranches.

If you are interested in a feeding venture with our company, we can strategize an opportunity that can fit your financial needs, and your cattle. We'd love to hear from you!!