Teague Diversified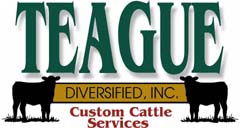 From Conception
to Consumption
Teague Diversified, Inc., is a diversified custom cattle feeding business located in Fort Morgan, Colorado. We not only offer the services of feeding cattle for ranchers and investors, but we also are involved in most other aspects of the beef cattle industry, spanning the production of a calf crop to the marketing of the resulting beef directly to the consumer. Along the way we offer services to ranchers and landowners, helping to make others' operations more profitable. In addition to our cattle feeding services, we offer services in beef and dairy heifer development, ranch leasing, ranch management and consulting, and artificial insemination services in our feedlot and on ranches. We are also members of the Ranchers Renaissance Beef Alliance, which owns beef from the ranch to the packer, and assists in the marketing of the beef to the consumer.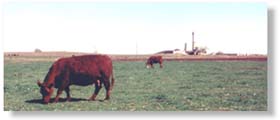 Gary and Laura Teague started Teague Diversified, Inc., in 1994, when they leased and operated a small 2,000 head feedyard in Fort Collins, CO while they were attending graduate school. They built their business from the ground up, with many hours of thought, sweat, and enthusiasm. Initially, they concentrated on handling cattle for research projects, working closely with Colorado State University. They also started developing a few heifers, understanding the importance of diversity to the growth of their business. Although Teague Diversified, Inc., still handles several thousand dollars of research each year, and continues its close relationship with CSU, its business now spans over many different disciplines of the beef industry.

Gary grew up in West Texas, in a little town named Roby. His family owned and operated a small diversified farming operation, including running a few cows and producing show Durocs. He completed a bachelor's degree in animal science at Texas A&M, then moved to Colorado State University, and a post-graduate education in Beef Management Systems. Laura grew up east of Denver, Colorado. Both of her parents were-now they are "retired"-schoolteachers, and taught the importance of education and challenging growth. Laura completed her undergraduate work in animal science at Colorado State University, and continued her education with graduate work in Beef Cattle Reproduction. They have three children, Shelby, Tucker, and Charlee Jo, who you can meet on the "On The Homefront" page. Most importantly, they both grew up in families where honesty and integrity are the most important values, and these values have become the cornerstones of the business.
At the Headquarters
Our Mission: Our primary mission is to build a well-respected business and a wonderful way of life that our children can enjoy and expand if they choose to remain in the agricultural industry. Secondly, we provide services with honesty and integrity, with the intent to make our customers' operations more profitable, while emphasizing the need to put beef back on the plates of American consumers.