Annette Bear-Crawford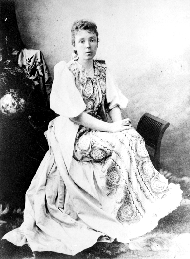 Annette Ellen Bear-Crawford (1853-1899), feminist, was born in East Melbourne, eldest daughter of eight children of Annette Eliza (born Williams) and John Pinney Bear, stock and station agent. John Bear sold his business in 1857 and took the family to England. They returned in l860 and he then established the Tabilk (Chateau Tahbilk) vineyard on the Goulburn River; from 1863-78 he represented the southern province in the Victorian Legislative Council and then retired to England. He believed in giving his daughters 'every educational advantage'. Annette was taught by governesses before attending Cheltenham Ladies' College, Gloucestershire, England. After some time in France and Germany she trained in social work in England where she met leaders of the women's movement and became well known as an active member of the National Vigilance Committee.
In 1890 Annette rejoined her mother in Melbourne, her father having died in l889. She became a leading force in the growing women's movement, which was then most concerned with gaining the franchise. Annette Bear believed 'the vote would be the most effective instrument for improving conditions of life'. She used her fine organising abilities to strengthen and eventually unite the existing suffrage societies. With the support of the Woman's Christian Temperance Union, she formed the Victorian Women's Suffrage League. Then, on her initiative, the United Council for Women's Suffrage was founded in 1894, with representatives from organisations interested in the cause; she was first president and later honorary secretary. The council lobbied politicians and municipal councillors and organised a monster petition in favour of women's suffrage, but failed to persuade the Legislative Council to allow the passage of a women's franchise bill.
Annette Bear also helped to educate women for public work. An accomplished and logical speaker, she trained other women in the art, including showing Vida Goldstein (q.v.) how to handle hecklers and answer questions. She encouraged women to gain election to school boards of advice; women were also needed as police matrons and to administer the Infant Life Protection Act (1890). She was one of the first members of the Society for Prevention of Cruelty to Children and of the Victorian Vigilance Society. She helped secure legislation to raise the age of consent to sixteen, and to appoint women as factory inspectors and to the committee of the Benevolent Asylum. She organised the successful Queen's Willing Shilling fund in 1897 to found the Queen Victoria Hospital for Women, but did not live to see the hospital opened.
In 1894 Annette married William Crawford, a solicitor, and thereafter was known as Mrs Bear-Crawford. The marriage did little to change the even flow of her life. Beatrice Webb described her as a 'gentle- tempered intelligent woman who keeps me company in the dowdiness of her dress'. Affectionate and well-read, she had a 'lovable, sunny nature'. In November 1898 she left for England to attend the Women's International Conference. She died of pneumonia on 7 June 1899 in London.
Janice Brownfoot
Books of interest
Australian Dictionary of Biography, vol. 7, pp. 230-1.

Freeman, Shirley Ruth. (1986). Nineteenth Century Reformers Constance Stone and Annette Bear-Crawford. Thesis (B.A. Hons). (MS 7900)

Oldfield, Audrey. (1992). Woman suffrage in Australia: a Gift or a Struggle? Cambridge; Melbourne: Cambridge University Press.