High level platforms
Herein this guide we talk a bit about the sexual politics behind shoes. We consider Freud and the ugly historic process of foot-binding and why women damage their feet willingly. And THEN we discuss and admire all the cool shoes we can get our hands on, from Mary Janes to Wedgies, Rocking Horse Boots, Ballet Boots and Hoof Shoes... Tally ho!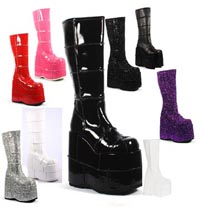 Freud divided objects into the feminine and masculine. He considered shoes to be feminine - beautiful, concave things that you slip into to feel good. Freud said a lot of things, but there's no doubt that women have seen shoes as a way of expressing their sexual politics for a long time.
Emos and skate girls love their Converse - the more battered, the better. They wear their sex on the inside. Psychobilly chicks wear fifties-style patent leather court shoes or butch creepers you can comfortably twirl in and really spread those circular skirts. Emos and psychobillies know that tomboyish is sexy too.
Fetish queens wear restricting shoes - shoes that either tower and dominate, or hamper and make the female more subdued and ornate due to lack of movement. And materials are so important - patent leather and rubber and metal studs explore the boundary between the normal and the deliciously perverse.
The fetishism of shoes has survived bra-burning and Nike, and is here to stay - in fact, it's getting more mainstream. Take high heels - they used to be fantasy shoes, for street prostitutes and the uber-rich wives of ambassadors. Now, any secretary has heels so high she can barely totter to the lift. Any PR girl has a pair of Manolos and carries around a comfortable change of shoes the way a battlefield medic carries syringes of morphine and bandages.
High heels are a self-imposed restricting form of beautification, just as Victorian corsets were in their day. They can be beautiful, perilous, damaging. The chinese used to bind the feet of women when they came of age (binding was a long, painful process that broke the foot against itself to make the feet 'prettily' tiny). The hobbling of a woman on tiny, broken feet was considered demure and ladylike.
Yet maybe, for once, Freud had a point. Women have taken shoes as their own symbol - never mind patriarchism. The men have very little to do with it. Some women get addicted to shoes like nothing else, and feel almost more excited by their shoes than by their menfolk. It's their right and privilege to damage their feet if they want to. Doctors confirm that elevated heels are a genuine sex aid - they improve muscles in the pelvic floor, as well as making you look like a sex doll. Women instinctively know this - they know how beautiful shoes can make them feel.
So sod the philosophy and the social dialogue - let's look at some fierce, deadly shoes. Prrrr.
Mary-Janes
Mary Jane is an American term (formerly trademarked) for a kind of strap shoe or sandal that typically has low heels, broad and rounded closed toes, and a single-buckle strap across the instep and/or around the ankle. They are often made of black patent leather, although current incarnations come in a wide array of colors and are also made of canvas or suede.
While the classic Mary Jane still retains its wide popularity and appeal, today's more stylish Mary Janes tend to be platform styles, with half-inch to one-inch soles and three to five-inch chunky heels, often with exaggerated grommets or buckles. These styles were especially popular in the United States in the late 1990s and early 2000s, within punk rock, psychobilly, and goth subcultures. Mary-Jane wearers would often accent the look with knee-high stripy or patterned socks, completing the look with a plaid, pleated schoolgirl-style skirt.
Mary Janes are, not surprisingly, a popular accessory for Kinderwhore and Lolita fashion.
A pump with a strap across the instep may be referred to as a "Mary Jane pump," although it does not have the low heels or wide toe of the original Mary Jane.
Rocking Horse shoes and Rocking Horse boots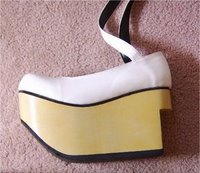 In 1993, British Punk/New Wave designer Vivienne Westwood asked Naomi Campbell to debut her latest shoe design on the runway. The supermodel took a few steps... and fell flat on her face. Many expected the flat-soled high level platform with a cut-out heel to be a flop. Instead, it became one of Westwood's signature pieces. A decade later, her Rocking Horse ballerina shoes and boots have found new admirers in people who love lolita fashion. In the words of Momoko from the novel 'Kamikaze Girls' (Shimotsuma Monogatari), the shoes are "Lolita must-haves (they go with any Lolita outfit)."
Dolly shoes
Dolly shoes are an incredibly flexible style of shoe - they suit any outfit from tight jeans to short skirts to gowns. Dolly shoes are either closed toe shoes or peep toe shoes, with or without heels. They are made of different materials, from rubber to leather to satin to cloth and more. Some high heel dolly shoes come with different patterns printed on them like floral prints and check prints.
Heeled dolly shoes have thick heels and a buckle strap to provide support. These shoes are common with goths, vintage queens and harajuku girls. Unheeled dolly shoes are beloved by ballet dancers. They are very comfortable to walk in and are usually made of cloth like satin.
Oxford shoes
A firm favourite of victorian goths and sultry vintage secretaries, gothic oxford shoes are laced up, come to below the ankle, and high-heeled and usually pointed. Sweet!
Wedge boots and high level platform boots
Wedge boots or wedgies are boots with a wedged sole so that one piece of material, normally rubber, serves as both the sole and the heel. Most goths, metallers, fetish queens - hell, everyone - will have a wedge boot tucked away in their wardrobe. Otherwise known in the trade as a seriously kick-ass boot.
Ballet boots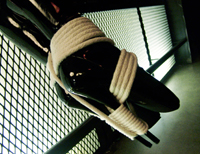 The ballet boot is about as extreme as fetish footwear gets. The ballet boot merges a ballerina's pointe shoe with the ultimate high heel. The idea is to force the wearer's feet almost en pointe, like a ballerina on tippy-toes, with the aid of long, slender heels. When upright, the feet are held nearly vertical by the heel, thus putting practically all of the body's weight on the tips of the toes.
Ballet boots and shoes are not intended for prolonged standing or walking. Instead, they act as a fetish object. However, if you do wear them to a club, you'll be assured of two fine young men offering to form a human sedan chair in which to carry you around...
Creepers
Creepers are neither delicate nor girly. They are the converse of the rockabilly world. Wearing creepers with drainpipes, narrow pencil skirts, circular skirts or any fusion of rockabilly style says you love hairspray, drink, having a big mouth and long, late-night fun. Creepers or brothel creepers are a type of shoe that gained popularity in the 1950s with the rise of rockabilly and the Teddy Boy.
They are considered a classic item of 1950s fashion. The brothel creeper was a big hit throughout the 1950s and 1960s. Malcolm McLaren gave the shoe a new lease of life in the early 1970s when he began selling the shoes from his Let it Rock shop in London's Kings Road. The shoes were snapped up by his Teddy Boy clientele, and when McLaren and his partner Vivienne Westwood decided to change the shop into a more rocker-oriented fashion, the brothel creeper still proved to be popular amongst the customers.
The shoe has since been adopted by some members of other subcultures, such as ska, punk, psychobilly and goth. In 2003 Osiris Shoes produced the Ali Boulala, which is a brothel creeper-influenced skateboarding shoe.
8-inch Heels
The latest shoes to capture the media are as deadly as they are fascinating - they're 8 inch heels, apparently the highest heel a woman can still walk on.
The easiest way to wear an 8 inch heel - though it's still an extreme option - is to go for 8 inch heel platform shoes or boots which raise the level of the ball of the foot to match the elevated heel. The effect is delicate, yet godzilla-like.
Fetish shoes
Shoe fetishism, also known as retifism, is the attribution of attractive sexual qualities to footwear. Fetish shoes can be fashion shoes, but they will have hints of perversity in the styling. Materials like PVC and rubber, unusual shapes that emphasise the foot like platforms, and detailing like studs and buckles are characteristic of a fetish shoe.
pr0n star shoes
Shiny shiny shiny boots of leather... Mind you, pr0n star shoes are not just about leather thigh-high boots that make a man want to raise his eyes just a little bit higher. A true pr0n star shoe has a see-through plastic heel, or transparent plastic straps. It's a nude shoe - it looks as cheap and pretty as you are, my dear, and it emphasises that although the foot is essentially shod, it is actually... nude. pr0n star shoes MUST be worn with nail varnish. Consider wearing with baby pastels and hot pink. Think kinderwhore ('child whore') and you won't go far wrong...
Hoof shoes
Okay, this is pretty specialised in the fetish world. Hoof shoes have metal horseshoes on the soles of the foot and are shaped like a hoof. They are designed for ponyboys and ponygirls who pull each other around in ponytraps made for people. We could also talk to you about ponytail buttplugs at this point, but we probably shouldn't. God bless expressing yourself. If you are a ponygirl, this is the shoe for you. If you aren't a ponygirl, wearing hoof shoes will make people think you are a ponygirl.
In fact, lots of fine people clearly want other people to think they are a ponygirl. Fair play! We are so exhausted by queries from people saying 'where can we get these fantastic shoes?'.
Fierce shoe accessories
Ankle chains work wonderfully for any woman wearing pretty much any shoe. Ballet pumps, tucked into converse, flip flops, fetish heels - ankle chains can be cheap, pretty, delicate, classy, summery, bizarre... they draw attention to the feet and suit everyone.
Ankle cuffs take ankle accessories to a new level and are a must for any fetish queen, goth or metaller. They add a 'tie me up, tie me down', gritty vibe to all shoes and work best with peeptoes, slingbacks and Mary-Janes. Accessories are, naturally, a good way to dress up an expensive shoe temporarily - thus achieving fewer shoes in your closet.
Ever since Brosettes wore bottlecaps on their doc martens - and before - shoe accessories have been the way to state your case on life. You can get Sum41 and Korn shoelaces, if that's your true desire.