Mary Reibey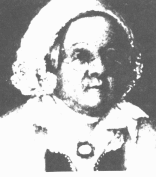 Mary Reibey (1777-1855), businesswoman, was born on 12 May 1777 at Bury, England, daughter of Jane (born Law) and James Haydock, farmer. She was christened Molly. Orphaned at an early age, she was reared by a grandmother; she learnt to read and write and was sent into service, from which she ran away. When arrested in August 1791, after repeatedly offering for sale a horse which she claimed belonged to her uncle but which was proven to have been stolen, she was in male disguise, calling herself James Burrow. 'Burrow' was sentenced to seven years transportation. Despite her youth and a petition organised by relatives, which stated she was duped into riding a horse stolen by a stranger, reprieve was refused.
Molly arrived on the Royal Admiral on 7 October 1792; she is believed to have been assigned to Lieut Francis Grose, who was commandant after Governor Phillip's departure. In September 1794 she married Thomas Raby, a junior officer on the Britannia, the first ship chartered by the officers for trade. Tom signed his name Raby, Raiby and Reibey interchangeably. He was granted permission to settle and given land on the Hawkesbury River, where they lived and farmed. In 1796, the first of three sons and four daughters was born. Tom acquired a house at the Rocks, Sydney, and began transporting Hawkesbury produce to Sydney by water. As a free settler he could take advantage of water transport which was superior to the colony's bad roads. He added to his fleet and in 1804 received another land grant on the Tank Stream, where he built a substantial house. As the colony grew the value of his property was vastly increased. His ships carried cedar and traded in the Pacific and from 1809 with China and India. In his absence Mary experienced long periods in charge of his affairs. When he died in April 1811, she inherited substantial property and her sons were approaching an age where they could oversee the shipping side of the business.
In 1816 she advertised her farms, houses and store for sale, intending to leave the colony. Two years later, writing to her cousin, she admitted to an income of 1000 pounds a year but said nothing was selling. The recent arrival of her sister had delayed her departure as she wished to see her with disposable land (cleared, cultivated and leaseable) before leaving. She purchased 2000 acres in Van Diemen's Land, which she entailed on her sons, and added to her fleet. She spent 1820-21 in England with her two eldest daughters, visiting, sightseeing and buying.
Mrs Reibey was wealthy (she paid 1100 pounds for her George St block in 1827) but she never commanded the spectacular fortune which some achieved who bought flocks on credit and speculated in land. In the colony, she wrote, 'no one will do well that is not thrifty, correct and Sober'. Access to credit helped build the family's fortune: Tom had borrowed from Robert Campbell; she was a shareholder in the Bank of New South Wales; her sons were directors and shareholders in Van Diemen's Land banks. But she was no land speculator and held her properties in the 1840s depression when many high flyers lost all. She bought property at Newtown where she built her home and in later years lived on her rents which were less than 1000 pounds a year. Family cooperation helped build a fortune and later placed strains on it: a son-in-law's defalcations involved her in huge expense, and other bad debts were incurred. A second son-in-law also proved unsatisfactory: he was later pensioned off after signing over to his wife the guardianship of their children. Mary died at Newtown on 30 May 1855.
Heather Radi
Nance Irvine, Mary Reibey - Molly Incognita 1982.